Domaine des Etangs, Massignac, France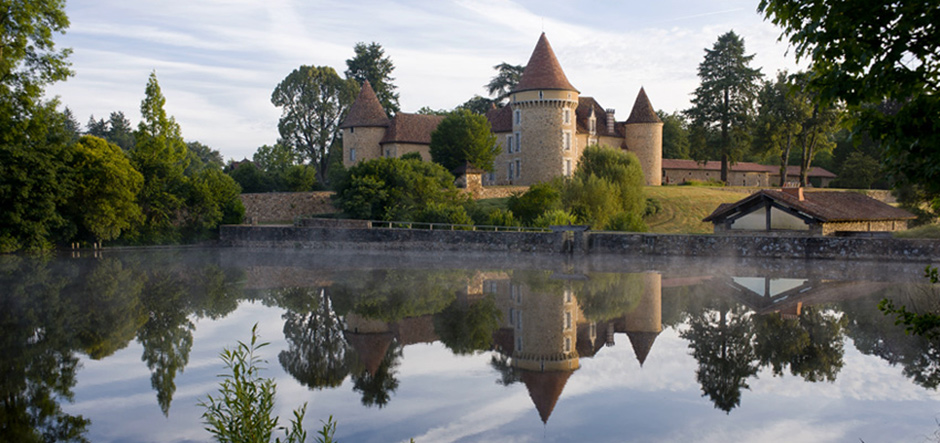 Domaine des Etangs offers a truly unique hotel experience. The largest 5 star resort in mainland France, it expands over 1000 hectares of protected natural surroundings, a mixture of forests, grassland and ponds.
It is an exceptional landscape, consisting of a fully renovated 11th century château, along with numerous works of contemporary art, landscaped gardens, six farmhouse cottages, a longère, a vegetable garden, Gallo-Roman baths, two swimming pools, a floating tennis court and a Michelin star gourmet restaurant.
Yet the initial impression of untamed nature soon reveals signs of the skilled and patient hand of craftsmen who have shaped a world in equilibrium. Here, the passage of time complements the gentle rhythm of the passing seasons and that of the animals that live here.
This is a place for rediscovery, relaxation, observation and for savoring the present moment.
The Château
This is a simple château, gracious in its humility; bedecked in light stone, which strikes the perfect balance between earth and sky.
It maintains the charm and the spirit of a typical family home, as well as some of the mystery of its origins, which can be dated back to the 11th century.
Here you will find 7 vast suites and bedrooms, each of which are as different from one another as the stars after which they are named. On the ground floor, the library, the dining room, the smoking room and various lounges allow guests to while the time away with a book, a meal or a tipple.
The château's interior is interspersed here and there with antiques, tailor-made creations, unique objects and original artwork. A continuous dialogue is created between old and new, boldness and simplicity, and is brought to life by the interior designer, Isabelle Stanislas.
Activities
Domaine des Etangs and its 1000 hectare area can be explored in a number of ways: On foot, on horseback, by bike, by boat, or even using one of our Blue Summer silent electric cars.
Whether you want to have fun, push yourself, or even just take advantage of some sunny weather, you are sure to find what you are looking for from our outdoor swimming pool, sports hall, or floating tennis court, all of which blend effortlessly into the surrounding landscape of the Domaine.