Continentale, Florence, Italy - Lungarno Collection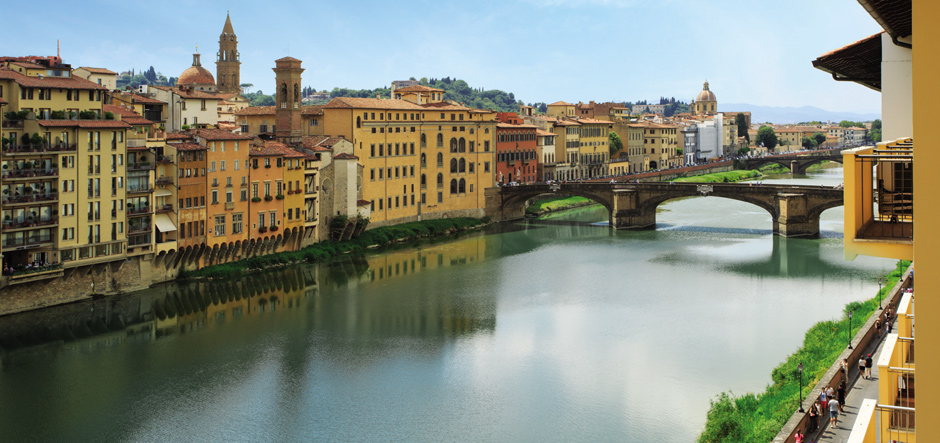 A vibrant and dynamic yet romantic design and luxury 4 star hotel in Florence, beautifully evolved in the energy of the 50's. The Hotel Continentale is the place to see and be seen, a catwalk for fashion and desire in the heart of Florence.
The elegant and inviting white colors chosen by Florentine architect Michele Bönan evoke harmony, simplicity, and fantasy. Discover refined design and attention to detail throughout this 4 star design hotel in Florence near Arno, from handmade leather trunks used as a desk to witty clocks used as a side table.
Rooms and suites at Continentale are in a wonderful environment made up of pure lines, light and the color white, taking its inspiration in irony, fashion and the design of the 50's. Pictures by great Florentine fashion photographers and creations from famous international designers enrich the Hotel Continentale with its vibrant and modern 43 rooms and luxury suites in Florence. The beautiful terrace on top of the Consorti tower invites guests and locals alike to discover the treasures of the Renaissance and a most stunning view over Florence. For our guests we also offer free Wi-Fi and the exclusive bath amenity line Bianco di Carrara by Salvatore Ferragamo.
White Iris Beauty SPA by Comfort Zone
Succumb to the natural murmurs of Tuscan wood and stone and drift away to the realms of utter relaxation. In the heart of the Continentale hotel opens our White Iris Beauty Spa.
A beautiful embracing ambience paying tribute to the elegance and simplicity of Florentine style, with warm tones given off by the typically Tuscan stone walls.
The Spa offers a wide selection of treatments and massages to choose from, created exclusively by [ comfort zone ], appropriate for guests who love to take a long moment of relax or for those with little time available.