Portrait Firenze — Lungarno Collection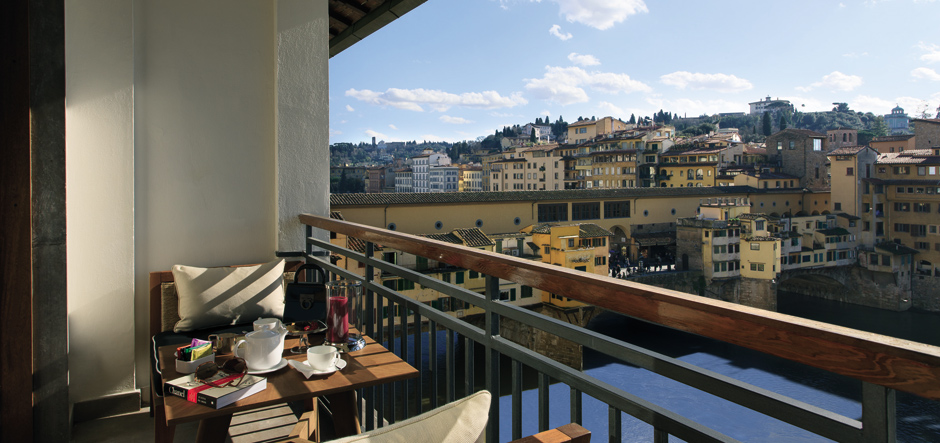 Florence, Italy
With a spectacular view of the river Arno, the Portrait Firenze is located right next to Ponte Vecchio and Via Tornabuoni's alluring boutiques. Elegance, sophistication and utmost attention to detail are redefined in this palatial mansion, portraying Italian haute couture of the 50s, when Florence captivated the world's attention once again. Interior designer Michele Bönan took inspiration from traditional Florentine craftsmanship, to design 37 suites. The simplicity of classic and contemporary lines is complemented by exquisite fabrics and lavish materials, such as linen and cashmere, warm wood and leather. Unique details reflect unforgettable moments of this era and add to an exceptional guest experience. Sumptuous oversized beds, Carrara marble bathrooms, living spaces, a kitchenette and the latest technology throughout promise complete relaxation for a couple or a family.
The legacy of the Ferragamo family imbues Portrait Firenze with an artistry that goes beyond passion.
A chance encounter, a backdrop of warm wooden panels and harmonious curves; the scene is set for you to live the refined vintage style synonymous with the iconic Florentine story.
You are not alone here: the walls offer gems taken from the Locchi, Giorgini and Alinari photography Archives, showcasing the golden stars such as Audrey Hepburn, Brigitte Bardot and Grace Kelly as they too holidayed in Florence, the fashion centre of the world.
Our dedicated Lifestyle Manager lets you discover a most unique Florence and the best Italian creativity has to offer.